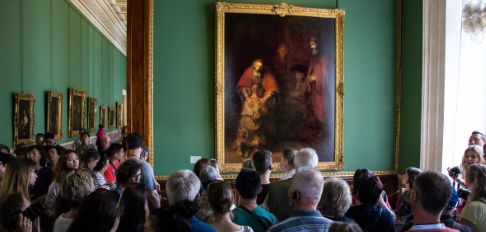 The Prodigal Son
By Toni Weisz/Abuse Recovery
Luke 15:11-24, Jeremiah 31:3b-c, Luke 15:10, II Corinthians 5:21a, Ephesians 2:1b, Luke 15:10, Revelation 7:9, Romans 8:15b-c, Revelation 19:9, and Romans 8:35
Luke 15:11-24
Then He said: "A certain man had two sons. And the younger of them said to his father, 'Father, give me the portion of goods that falls to me.' So he divided to them his livelihood. And not many days after, the younger son gathered all together, journeyed to a far country, and there wasted his possessions with prodigal (wasteful) living. But when he had spent all, there arose a severe famine in that land, and he began to be in want. Then he went and joined himself to a citizen of that country, and he sent him into his fields to feed swine. And he would gladly have filled his stomach with the pods that the swine ate, and no one gave him anything.
"But when he came to himself, he said, 'How many of my father's hired servants have bread enough and to spare, and I perish with hunger! I will arise and go to my father, and will say to him, "Father, I have sinned against heaven and before you, and I am no longer worthy to be called your son. Make me like one of your hired servants." '
"And he arose and came to his father. But when he was still a great way off, his father saw him and had compassion, and ran and fell on his neck and kissed him. And the son said to him, 'Father, I have sinned against heaven and in your sight, and am no longer worthy to be called your son.'
"But the father said to his servants, 'Bring out the best robe and put it on him, and put a ring on his hand and sandals on his feet. And bring the fatted calf here and kill it, and let us eat and be merry; for this my son was dead and is alive again; he was lost and is found.' And they began to be merry."
Some have called this, "The Running Father," instead of, "The Prodigal Son," because it's the actions of the father in these scriptures that give a glimpse into the very heart of God, our heavenly Father, towards us, His children. I can imagine the father looking to the horizon every day for a glimpse of his son returning home. And every day, losing hope that he would return. Then one day, he spots his son and is filled with compassion for him. He girds up his loins (takes his robe from back to front between his legs and tucks it into his belt) and runs to his son. During Biblical times, a man of his stature in the community would not do such a thing in public, but he didn't care what others thought. I read that the son could have been banned from the town or humiliated publicly, because he dishonored his father and their town with his sinful actions. This was another possible reason why the father ran to his son; he wanted to protect him from the humiliation and judgement of others.
Let's put ourselves in the shoes of the prodigal son. Didn't we run away from the homes that God had given us in part due to the dysfunction, and/or we wanted to explore the world and live our lives our own ways? All the while, our heavenly Father is watching and looking for us to return home to Him. How it must have broken His heart to see the destructive, ungodly choices we made. And yet, He loves us with an everlasting love; He yearns for us to come home to Him (Jeremiah 31:3b-c). The angels in heaven rejoice over one sinner who repents (Luke 15:10).
God sent His Son to die for us so we could be set free from the judgment we deserved because of all our sins. I love the correlation between the prodigal son's father and our heavenly Father. Jesus became sin for us (II Corinthians 5:21a) and was naked, beaten, and crucified, and He died for us. He was humiliated and tortured for me and you. When I think of what Jesus did on the cross for me, I am overwhelmed with gratitude because I know I didn't deserve it, but I humbly receive this precious gift of salvation that cost God the most precious thing He had, His Son.
Lastly, we too were once dead in our trespasses and sins against God, (Ephesians 2:1b) but when we confessed our sins, like the prodigal son, we were welcomed into the family of God. There was a celebration in heaven the day you received Christ as your Savior (Luke 15:10). God has clothed you in a beautiful white robe (Revelation 7:9), put a ring on your finger, and adopted you into His Holy Family (Romans 8:15b-c). One day, we will all be together for the great feast in heaven, the marriage supper of the Lamb (Revelation 19:9). Hallelujah! Thank you, Jesus!
Thank you, Father, for the gift of adoption into your family. I am no longer an orphan, a stranger, or an outcast; I am yours forever.
Note: To you precious ones who did not have good earthly fathers, it is hard to think of God as a good heavenly Father. Please know that God's heart broke when he saw the abuse and neglect you suffered at the hands of your earthly fathers. God is not like your earthly fathers; He is kind, gentle, pure, holy, and faithful. He loves you with an everlasting love. Nothing can separate you from the love of God through Christ Jesus our Lord (Romans 8:35).
Questions:
What was your relationship like with your earthly father?
Do you see God as a good and kind Father? If not, please explain.
Please reach out if you need to talk or you need prayer.
You are loved,
Toni