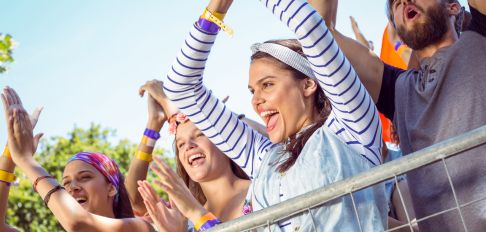 Who Are Your Balcony Peeps?
By Toni Weisz/Recovery Tools
Scripture References: Hebrews 10:24 and Matthew 11:28–30
Balcony peeps (people) are individuals who cheer you on in your life. They are literally hanging over the railing of a balcony, cheering you on in your walk with Jesus and in the hard things you have experienced in your life. They are your cheerleaders.
Who do you see as your balcony peeps? Can you see their faces? Can you hear their words of encouragement?
Too many people, even in ministry, are not kind, gentle, loving, or supportive. I have experienced a lot of pride lately in leadership roles, and it makes me very sad because I know that is not pleasing to our God.
In the book, Balcony People, the author talks about the toxic people in our lives and how much importance we put on their words instead of focusing on the positive people God has put in our lives that help stir us up to love and good works. (Ref. Hebrews 10:24)
Here is a poem by an anonymous source taken from the book, Balcony People by Joyce Landorf Heatherley:
I was hungry and you formed a humanities club to discuss my hunger.
THANK YOU.
I was imprisoned and you crept off quietly to your chapel to pray for my release.
NICE.
I was naked, and in your mind, you debated the morality of my appearance.
WHAT GOOD DID THAT DO?
I was sick and you knelt and thanked God for your health.
BUT I NEEDED YOU.
I was homeless and you preached to me of the shelter of the love of God.
I WISH YOU'D TAKEN ME HOME.
I was lonely and you left me alone to pray for me.
WHY DIDN'T YOU STAY?
You seem so holy, so close to God; but I'm still very hungry, lonely, cold, and still in pain.
DOES IT MATTER?
How do we meet these women's needs? They need a safe place to come to lay their burdens down. That's why we do the Sunday Conference calls. We want to be the hands and feet of Jesus to these dear precious women. We provide a community of women who have experienced the same trauma because we have walked the same walk. We know through experience what they are feeling.
They are yearning to feel deeply connected in a safe community. They have been used and abused and feel isolated in their pain, and they are vulnerable to the attacks of the evil one. They desire to be seen by others. They need love, support, and encouragement that one day, if they seek God with their whole heart, they will be healed. But it's hard work, and that is what we are here for, to cheer them on and to help them heal from their past trauma. It is God that leads them to us, and it's through the power of Jesus, the Word of God, and the work of the Holy Spirit that they are healed. We are just vessels God uses to accomplish this miraculous work.
We meet their spiritual needs as well as physical needs. We do not judge them for the things that have happened to them in their past because that does not define them. We love them, and we know they are weary with their pain and trauma from their past.
We are reminded of the words of Jesus in Matthew 11:28–30: "Come to Me, all you who labor and are heavy laden, and I will give you rest. Take My yoke upon you and learn of Me, for I am gentle and lowly in heart, and you will find rest for your souls. For My yoke is easy and My burden is light."
I thank God for each of you on this call today. I know most of your stories, and I am in awe of God and the work He has been doing in your lives. I get to watch God miraculously heal your broken hearts, bodies, minds, and spirits. I am truly honored and humbled by the privilege to serve in this ministry and for each and every one of you.
Questions to take to heart:
Who are your balcony peeps, your cheerleaders?
Do you see them hanging over the balcony cheering you on? What are they saying to you?
Who are you encouraging? For those that are just beginning your healing journey, take care of yourself and your family first, then you can reach out to others.
How can we pray for you on your healing journey?
Please reach out if you need to talk this week. Send me a text at: 561-327-7274 or email me at: toni@myashestobeauty.com.
You are loved,
Toni