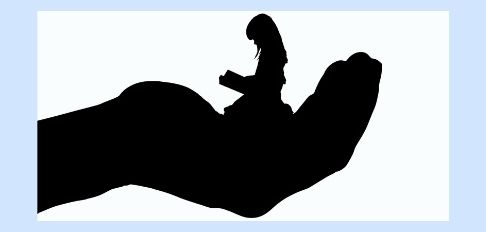 Luci's blog
My Identity in Christ (Part 1)
2 Corinthians 5:17 "Therefore if anyone is in Christ, he (she) is a new creation. The old has passed away; behold, the new has come."
Romans 8:1 "There is therefore now no condemnation for those who are in Christ Jesus."
John 15:15 "No longer do I call you servants, for the servant does not know what his master is doing; but I have called you friends, for all that I have heard from my Father I have made known to you."
When I was a little girl, I remember having an overall sense of happiness and freedom to be a child. But as I grew older and began to develop the awareness of my identity within my family unit and became the victim of verbal and physical abuse, my perspective on who I was began to change.
In my mind's eye, I was ugly, stupid, and overall, a pathetic girl that no one loved or wanted to be with. I can remember my father saying over and over, "Why can't you be like your brother or why can't you be like your sister?" He was referring to the older siblings that had gone on and became successful, in his eyes. Out of his frustration and unchecked anger, he lashed out and made us feel unwanted as he put us down by abusing us verbally. My mother was a quiet, submissive woman with multiple (total of 15) kids to care for. She wasn't involved in our lives except to care for our physical needs. And the brothers that were still in the home, treated me with great contempt and regularly beat up on me. At age 11, I was being molested by two of my older brothers and by the age of 12, I lost my virginity to a drug-addicted man that was 14 years older, who lived in the neighborhood. He literally took advantage of my desperate need for love and affection and convinced me to cooperate with his selfish intentions. I told no one as I thought they would blame me; I believed in my young heart that it was my fault.
I felt like such a failure, that by the time I was a young teen, I began to medicate with wine and beer, and at one point, I felt so hopeless, I attempted to take my own life! Obviously, I wasn't successful, but at the time, I believed that I was a failure even at that! I not only felt unworthy to be loved but I also felt dirty and had a great sense of shame that covered me like a thick cloud.
As I grew into my teens, I continued to abuse alcohol, adding hard liquor and was introduced to all sorts or illegal drugs, which I experimented with daily. I lived a destructive life of substance abuse and promiscuity. And at age 24, I committed what I thought was the unforgivable offense by having an abortion, essentially ending the life of what would turn out to be my only biological child. This event plunged me deeper into a sense of self-loathing and emptiness that I had yet to experience. By the time I was 25, my sense of self-worth was in the pit; I had no hope and no purpose for my future.
Then it happened! The Lord Jesus, who had been pursuing me for years through the witness of other Christ followers, opened my eyes to His amazing acceptance, love and mercy for me. And I can remember the sense of hope and love that flowed through me like a rushing river! It was incredible! My self-perspective changed that day. I dared to believe that I could be something more than I had settled into. And I embarked on a lifelong mission to get to know the God who would be willing to die for me, a pathetic, sinful, ugly and stupid girl. It took years of Bible reading, support from other believers in Jesus and some Biblical counseling, for me to accept my new identity as I embraced 2 Corinthians 5:17, which tells us, "Therefore if anyone is in Christ, he (she) is a new creation. The old has passed away; behold, the new has come."
Today, after walking with the Lord for over 37 years, having His amazing Holy Spirit living in me, I embrace the truth that I am God's precious daughter, loved and cherished beyond my wildest dreams! He has given me dignity, self-worth and a future hope. I no longer condemn myself because according to Romans 8:1, "There is therefore now no condemnation for those who are in Christ Jesus." I no longer accept the attempt of others to manipulate or put me down. I have come to understand that I can have boundaries and stay in control, by the power and guidance of the Holy Spirit.
Blessings,
Luci
See My Identity in Christ (Part 2) below.
Luci's blog
My Identity in Christ (Part 2)
QUESTIONS:
What is your identity? How is it different from when you met and received Jesus as your Lord?
As Jesus walked the earth, teaching and preaching about the Kingdom of God, He validated women and showed them great mercy and respect. He went against the culture they lived in. In contrast, their culture treated them like 3rd class citizens, with few rights or respect. He accepted, healed, loved and taught them. And He is available to do the same for you and me today!
According to Romans 8:17, those who have repented of their sins and received Jesus as their Lord and Savior, become His heirs (which is one who receives ownership of an estate and all that is in it), but in this case, we are receiving the Kingdom of God in all its amazing beauty and perfection. We are precious and loved daughters of the King and will be for all eternity!
I want you to picture yourself dressed in a lavish, flowing white robe, which is the symbol of purity and perfection, and let's read what it says in Isaiah 61:1-3, which was written 740-700 BC (before Jesus walked this earth).
"The spirit of the Lord God is upon me, because the Lord has anointed me to bring good news to the poor; He has sent me to bind up the broken hearted, to proclaim liberty to the captives, and the opening of the prison to those who are bound; to proclaim the year of the Lord's favor, and the day of vengeance of our God; to comfort all who mourn; to grant to those who mourn in Zion – to give them a beautiful headdress instead of ashes, the oil of gladness instead of mourning, the garment of praise instead of a faint spirit; that they may be called oaks of righteousness, the planting of the Lord, that He may be glorified." ESV
God takes our filthy rags, which is a symbol of our broken lives, and He replaces them with clean, white robes or righteousness, comfort, healing, joy, peace and strength!
Isaiah 61:10 "My soul will rejoice greatly in the Lord, my soul will exult in my God; for He has clothed me with garments of salvation, He has wrapped me with a robe of righteousness, as a bridegroom decks himself with a garland and as a bride adorns herself with her jewels."
Blessings,
Luci