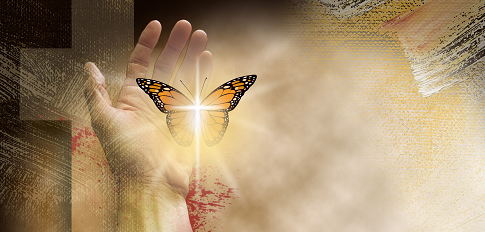 John 1:1,14, Titus 3:5, Luke 1:28, 2 Corinthians 5:21, Matthew 27:3-4, 1 Corinthians 15:3-4, and Colossians 3:1
For those of us who have suffered the trauma of abortion, can agree that every part of our being, physical, mental, spiritual, and emotional, has been broken and shattered into a million pieces. We found ourselves barely able to function and as a result we chose unhealthy mechanisms to cope with our state of despair; such as alcohol, sex, drugs, shopping, unhealthy relationships or anything that could fill the black hole in our heart. There is only one person who can pick up the shattered pieces of our broken lives and fill the hole in our heart and that is Jesus the only begotten Son of God. Have you truly met the Savior, the lover of your soul? Have you been led out of the darkness and chains, into His glorious healing light?
Where were you when you found Jesus? I was 34 years old and literally on my back laying on my couch for weeks at a time, and thinking this is not living, I am barely surviving, and wanting to end this torment of a life. My depression was so severe that I was incapable of getting on with my life and daily responsibilities. I was a broken, depressed, addicted, suicidal mess. On the outside, I pretended to have a perfect life, but inside I was dying and it became exceedingly more difficult to put on my mask every day. The only thing that kept me from formulating a plan to end my life were my 2 children who were very young, at the time around 7 and 8. I could not abandon them and leave them without a mother.
My husband had been on a quest to find the truth about Jesus and he was attending several churches in our area. In my desperation, I told him I wanted to attend church with him on one such Sunday. All four of us attended a small Baptist church in Browns Mills, NJ on January 2, 1994. For the next four weeks we would attend church as a family for Sunday School, Sunday Service, and on Sunday and Wednesday night meetings. My heart and mind were being saturated with the Bible, the Living Word of God (John 1:1,14). My Spirit was slowly being regenerated or reborn (Titus 3:5). My eyes and ears were opened and I heard things I had never heard before, and I had attended church my whole life. I heard that Jesus was born of a virgin teenager, a woman blessed and chosen by God, (Luke 1:28) but no different from you or I. He lived a sinless life, (2 Corinthians 5:21) was betrayed by Judas Iscariot for 30 pieces of silver, (Matthew 27:3-4) was tortured and crucified on a cross, died, was buried and rose again on the third day. (1 Corinthians 15:3-4) He is alive and sitting at the right hand of the Father in Heaven. (Colossians 3:1) When I realized that Jesus loved me so much that He died for me and He took upon himself my sins and He willingly died for me. I was finally broken of my self-sufficiency and pride and I humbled myself before God and I asked Him to forgive my sins and I asked Jesus to be my Lord and Savior.
The most memorable life transforming day of my life was on February 6, 1994 when I became a born-again believer in Jesus. I will never forget that evening after Church when I was of all things, smoking a cigarette in my garage; that addiction took longer to stop than my drinking which stopped immediately. It was a clear crisp beautiful February evening and looking up I saw the moon and stars and I had this overwhelming feeling inside that something happened, I felt my spirit quicken in me and I said, "I feel you in me, I am changed, thank you Jesus." Tears streamed down my cheeks and I was filled with gratitude, love, and hope for the first time in my life, I felt completely loved.
Have you encountered Jesus?
Once you do you will never be the same.
Tell me your story, where were you when Jesus found you?
Blessings,
Toni