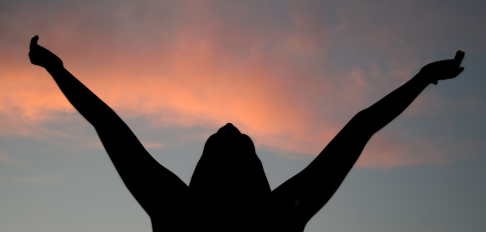 God's "Perfect" Will
by Luci Boudreaux/Spiritual Insights
June 4, 2023
Scriptures: John 14:23 and Colossians 1:9b–12
John 14:23 (NKJV)
"Jesus answered him, 'If anyone loves me, he will keep my word; and my Father will love him, and We will come to him and make Our home with him.'"
Col 1:9b–12 (NIV)
"We continually ask God to fill you with the knowledge of his will through all the wisdom and understanding that the Spirit gives so that you may live a life worthy of the Lord and please him in every way: bearing fruit in every good work, growing in the knowledge of God, being strengthened with all power according to his glorious might so that you may have great endurance and patience, and giving joyful thanks to the Father, who has qualified you to share in the inheritance of his holy people in the kingdom of light."
Before I met Jesus at 25, I had lived a hard life. I carried a lot of baggage because of others who had harmed me, both physically and emotionally. And because of my damaged self-image, I made a lot of poor choices. I abused alcohol and drugs and became promiscuous after being raped at age 12. As a single woman at 24, I got pregnant. Then I added injury to the pain and confusion by aborting my precious child.
As Jesus entered my life, He began to open my eyes and show me a love that I had never experienced. There was acceptance and a desire to know and be known, without fear of rejection. I knew I was safe, and this is when I began to open up to receive God's will for my life.
Early on in my faith, I thought that God was in the business of answering "reasonable" prayers just because I prayed them. After all, I was His beloved daughter, and I knew He wanted to bless me. I strongly desired a godly husband and children, a smooth path to a vibrant ministry where I could share my faith and help other women who had been wounded, and to have no conflict with other members in the church.
I didn't marry until I was 43, have no living biological children, didn't establish a "vibrant" ministry (not how I imagined) and have had conflict with other members of the body of Christ. God hasn't answered my prayers the way I desired. He did so much more! He answered them according to His perfect wisdom. So, I was able to grow closer to Him, and He has been glorified in my life.
As I grow in my faith, I am coming to understand that God's perfect will is not always Him answering prayers according to my desires and my limited perspective. I am learning that His perfect will comes about when, in humility, I surrender. It's key to a fulfilling relationship with Him. I had to come to the place where I wanted to fully surrender to God and be in an intimate relationship with Him, more than having any of my prayers answered, whatever that looks like.
Questions:
Have you surrendered your will to God? If not, why? What are you afraid of?
Are you in God's will right now? If so, what does that look like?
How do you respond to detours and unanswered prayers?
How can we pray for you?