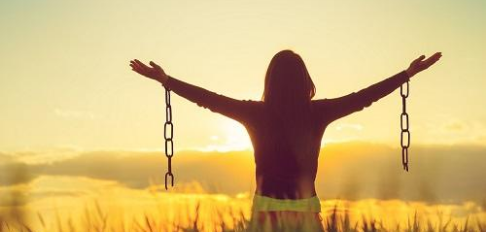 John 8: 31-32, 34-36
Then Jesus said to those Jews who believed Him. "If you abide in My word, you are my disciples indeed. And you shall know the truth and the truth shall make you free." Jesus answered them, "Most assuredly, I say to you, whoever commits sin is a slave of sin. And a slave does not abide in the house forever, but a son abides forever. Therefore, if the Son makes you free, you shall be free indeed."
Galatians 5:1 Stand fast therefore in the liberty by which Christ has made us free, and do not be entangled again with a yoke of bondage.
Quote from Ravi Zaccharias, "Sin will take you farther than you want to go, keep you longer than you want to stay, and cost you more than you want to pay."
We were all born with a sin nature, because of Adam and Eve's fall in the garden, when Eve took the fruit and ate it and gave it to her husband to eat also, that's when sin entered into the world. Sin is destructive and we are all servants to sin. Because of our sin nature we are proud, selfish, liars, disobedient, drunkards, and murderers, etc. We do not have the ability to stop this destructive cycle until we meet the only one who has never sinned, His name is Jesus our Savior and Redeemer.
What does freedom in Christ mean? Freedom in Christ means I no longer belong to Satan and I am no longer a slave to sin, doing things that are ungodly. I have a new nature, the Bible says when I confess and repent (turn) of my sins and believe in my heart that Jesus is the Son of God, that I am born again. I am now born of the Spirit of God. I am adopted into God's family. When I become born again the Holy Spirit now indwells me. I now have the ability with the help of the Holy Spirit to make good God glorifying decisions.
Jesus's death on the cross paid my sin debt, He was my propitiation, my substitute, He paid the penalty for all my sins and the sins of the whole world when He died on the cross 2000 years ago. Because of His death for me, I am now blameless before God, my sins have been covered by the blood of the Lamb, all God sees is Christ righteousness. God rescued me from the clutches of the devil, who once held me captive, and placed me in the palm of His hand. I now belong to God.
As a believer in Jesus I have freedom from the Great White Throne judgment, which is for those who do not know Jesus as their personal Savior. There is a literal place called hell that was created for the devil and his angels. It grieves the Father that any one will be in hell. This is the reason I am sharing this with you today, it is God's desire that no one should perish but all have eternal life, I am giving you this information now so if you are unsure of your relationship with Jesus now is the time to get that secured. I am available to talk, please email me at arwsg4u2@gmail.com, and we will discuss this further so you can know for sure you have eternal life and that when you die you will be in heaven with Jesus.
If you are a believer you stand before the judgement seat of Christ, the Bema Seat, you are judged based upon things done on earth good or bad. You will receive rewards or you will have rewards taken away. You are guaranteed a home in heaven forever. A place where there is no more sorrow or death or crying, where God will wipe away the tears from our eyes.
I have freedom to live my life in a new way. Instead of being selfish and prideful I am a servant of God, I am His hands and feet in this world, to minister His love, grace, and compassion to all around me. I am now more concerned for others needs than my own. The least I can do is serve Him for what He has done for me. I have a new life, a new purpose, a new family and a home in heaven when I die. I also we see my sweet Joseph my son who I aborted 40 years ago. What a sweet day that will be, I can't wait to kiss my son's cheek and to hug his neck.
Discussion Questions
Have you ever confessed and repented (turned away) from your sins to God and do you believe that Jesus is the sinless Lamb of God that died on the cross for your sins?
If you are unsure of your relationship with Jesus, please email me so we can talk in greater detail.
God Bless you,
Toni