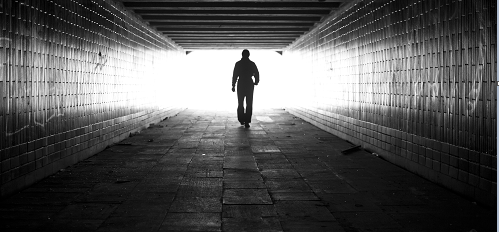 In part one of this story, I left off when I threw the man out, I will call "abuser" that had been living with me, who I was allowing to ruin my testimony, my peace of mind and keeping me from a relationship with the Lord. I had discovered that you cannot serve Jesus and the devil or another way to put it is, ungodly/sinful desires, at the same time.
He had threatened me as I told him to leave so I worried that he would retaliate, having seen him do it to others who crossed him. But I had turned a corner and began to trust in the Lord again so I was resolved. Although I knew I had done the right thing, I was so unsure of my future. And in spite of feeling so broken and vulnerable, I trusted the Lord and moved towards Him. I asked for forgiveness for leaving the path He had so firmly planted me on and asked him to restore me to Himself.
Through the tears and the shame, I began my journey back to my Lord, one step, one day at a time. I began attending church again and as I sat in the services, I felt numb and unable to respond. I just took it all in and allowed the Lord to begin the healing process on my heart, mind and my sick body. I got back into the bible and read everyday and slowly returned to fellowship with other believers which was so good for me! It took five plus years to be restored to the closeness that I once had with the Lord and to feel confident in my role as His child.
I still had a deep longing to be married but this time I was leaving it up to the Lord. I learned that I could not make it happen on my own, not the way God would have it for me! I knew I wanted to be with a devoted follower of Christ, a man who would put Jesus first in all things and cherish me the way God intended.
After a couple of years no men of this caliber had come into my life so, I assumed that the Lord intended for me to be single. And shortly after I accepted this and began to settle on the idea that God would use me in my singleness, He sent me a godly, ethical, gracious man who would eventually become my husband! The way we met could only have come from the Lord! We lived in different countries and found one another on a
Christian dating website. So after 42 years, I married my soul mate. It has been 17 wonderful years that we've been together. He is perfect for me!
If you ask me, would I want to go through that horrible relationship with the abuser again to get where I am today, I would say NO. But having experienced it, I can appreciate how God provides and does it so much better than we can imagine! Praise Him for His faithfulness!
In Christ's love,
Luci