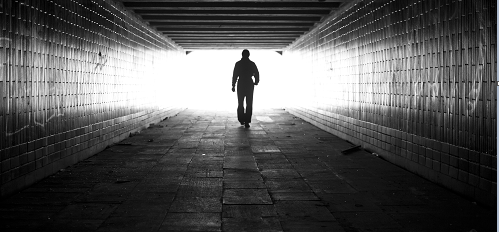 Luci's blog
Angel of Light (Part 1)
There he was with his beautiful smile and wavy brown hair with streaks of sunlight in it and those eyes! They had mischief in them and flirted with me! I just knew He was an answer to my prayers, finally!
I was 33. I had been following Jesus for 8 years and loved serving Him. I was involved in multiple ministries, leading post abortion recovery groups (having experienced my own horrific abortion experience), women's ministry, church functions and small group bible studies.
I desperately wanted to be married and have a family. I felt so out of place in the church, with the couples (both younger and older) and their children that seemed to be everywhere. But I promised my Lord that I would not sleep with any man or marry unless He chose that man, one who I could serve Him with. I prayed fervently and waited impatiently. But 8 years passed and I was growing anxious as I felt my biological clock ticking away! At this point I was beyond the point that most couples began their families; I was becoming very anxious about my singleness.
My "prince" was charming, friendly and polite. He captured my heart the moment I laid eyes on him. I shared my faith with him and he said all the right things that lead me to believe he too followed God. But the deeper into our relationship I went, the more red flags I saw that told me to "RUN"! But I was so infatuated with the idea of being his girl, marrying and raising our own family that I couldn't see the danger I was heading toward. Satan used this man to lure me into a trap. He lead me to believe that this could work. But the harder I tried to conform this man to my ideal god fearing partner, the more evident it became that he would not.
At first, I refused to sleep with him, attempting to keep my promise to God while dancing with the devil. By this time, several months into the relationship, all my protection and resistance was gone. I stopped going to church, abandoned all my ministries and isolated from my believing sisters. I gave in to his constant seductions and once I had sex with him, I felt truly trapped. I had the overwhelming sense that I made a grave mistake! But I believed I had to marry him so I could honor my promise to God that I wouldn't sleep with any man until I was married. It sounds ridiculous now but the guilt and condemnation I put myself under was suffocating. Along with that I had succumbed to his control over my life; he was a master manipulator and I felt that I was under his spell. Little did I know, he was just a pawn of the devil, using this relationship to pull me further and further from my Lord.
I was stressed out, couldn't eat, had insomnia (cried in the dark most nights), experienced panic attacks and lost all my confidence and joy.
My prince turned into a nightmare! He manipulated me and criticized my words and actions. He slept with other women and lied about it even when I exposed him. He turned out to be a very warped and perverted individual. He was literally a pawn of the devil and didn't know it. It took me three years to see it and finally get help. When I gained the courage to stand up to him, I threw him out and began my journey back to intimacy with God.
In Christ's love,
Luci
See Angel of Light (Part 2) below.
Luci's blog
Angel of Light (Part 2)
In Part 1 of this story, I left off when I threw the man out, I will call "abuser" that had been living with me, who I was allowing to ruin my testimony, my peace of mind and keeping me from a relationship with the Lord. I had discovered that you cannot serve Jesus and the devil or another way to put it is, ungodly/sinful desires, at the same time.
He had threatened me as I told him to leave so I worried that he would retaliate, having seen him do it to others who crossed him. But I had turned a corner and began to trust in the Lord again so I was resolved. Although I knew I had done the right thing, I was so unsure of my future. And in spite of feeling so broken and vulnerable, I trusted the Lord and moved towards Him. I asked for forgiveness for leaving the path He had so firmly planted me on and asked him to restore me to Himself.
Through the tears and the shame, I began my journey back to my Lord, one step, one day at a time. I began attending church again and as I sat in the services, I felt numb and unable to respond. I just took it all in and allowed the Lord to begin the healing process on my heart, mind and my sick body. I got back into the bible and read everyday and slowly returned to fellowship with other believers which was so good for me! It took five plus years to be restored to the closeness that I once had with the Lord and to feel confident in my role as His child.
I still had a deep longing to be married but this time I was leaving it up to the Lord. I learned that I could not make it happen on my own, not the way God would have it for me! I knew I wanted to be with a devoted follower of Christ, a man who would put Jesus first in all things and cherish me the way God intended.
After a couple of years no men of this caliber had come into my life so, I assumed that the Lord intended for me to be single. And shortly after I accepted this and began to settle on the idea that God would use me in my singleness, He sent me a godly, ethical, gracious man who would eventually become my husband! The way we met could only have come from the Lord! We lived in different countries and found one another on a
Christian dating website. So after 42 years, I married my soul mate. It has been 17 wonderful years that we've been together. He is perfect for me!
If you ask me, would I want to go through that horrible relationship with the abuser again to get where I am today, I would say NO. But having experienced it, I can appreciate how God provides and does it so much better than we can imagine! Praise Him for His faithfulness!
In Christ's love,
Luci