Get the New eBook
Published by My Ashes to Beauty
LEADING THEM INTO HIS LIGHT
Compilation of Post-Abortion
Healing & Recovery Stories in an eBook
In this eBook, you will read 17 true, short stories about women who have experienced the heartache, pain, sorrow and regret of having an abortion.
For many, it took YEARS of suffering the crippling effects of sin, guilt and shame before coming to know the ONE who took all their sin, guilt and shame upon Himself. Although you can't turn back time and undo a sin, you can turn from sin and receive AMAZING GRACE and complete forgiveness, recovery and healing through Jesus Christ. These women have found the answer to being HEALED and FREE from the chains of darkness. You CAN have a new beginning–TODAY!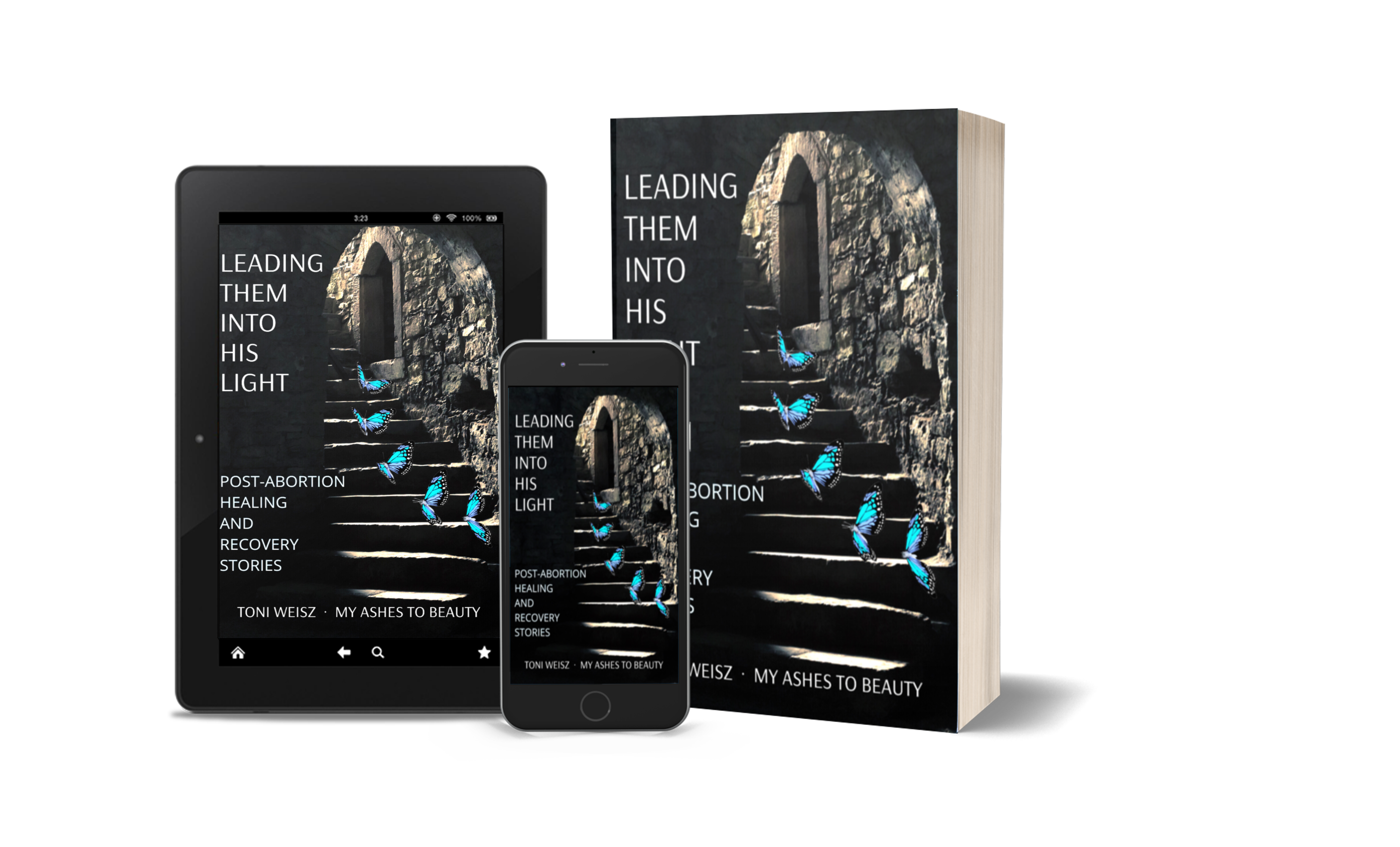 To get the eBook:
CLICK ON THE DONATE BUTTON AND CHOOSE YOUR DONATION AMOUNT
WHAT HAPPENS AFTER YOU CLICK ON THE DONATE BUTTON?
1. When you click on the DONATE button, you will be taken to PayPal's secure page to decide your donation amount.
2. After donating,
WAIT A FEW SECONDS

until you are AUTOMATICALLY taken back to this website and given access to the eBook.
Thank you so much for your donation.
Your donations* are greatly appreciated and help other women step out of darkness and isolation into Jesus' glorious healing light. Thank you so much!
*
This is not a tax exempt organization, therefore, your
donations are not tax-deductible.
Ministry to Women Suffering With Post-Abortion Trauma
Toni Weisz
TONI WEISZ, founder of MY ASHES TO BEAUTY LLC, has a passion to bring recovery and healing to women suffering from post-abortion trauma. Millions suffer in silence for fear of judgment and condemnation from others. Toni ministers with the love and compassion of Jesus Christ along with wisdom from God's Word as she leads many INTO HIS LIGHT.